In the countryside : unusual accommodation in Ariège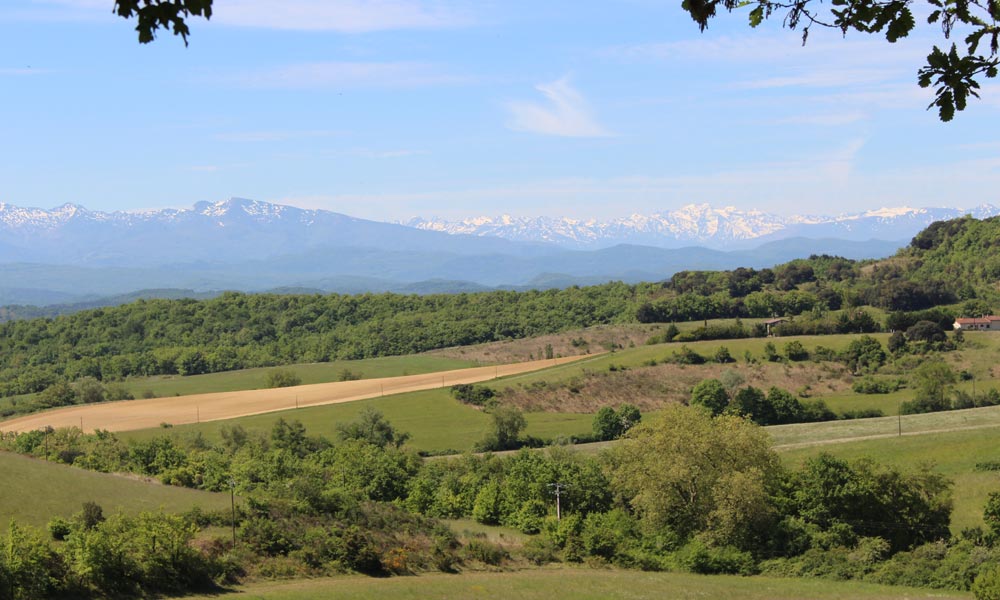 Holiday at the farm

The Domaine de la Trille offers accommodation in a wooden trailer or in a gite within a farm breeding Limousin cows and horses, with a splendid view of the mountains, the hillsides, a local tradition, good living and eat well.
Your stay awaits you in an open air space, in beautiful countryside, the estate extends over 240 hectares of meadows and hillsides where you can walk, meet some deer.
Your unusual accommodation in Ariège in a caravan, in the middle of nature, or in a farm house, will offer you all the comfort of a stay of luxury. All rooms have a 160 cm bed and quality equipment.
You will really be immersed in a horizon open to nature and mountains. To the south, you will see the peaks of the Pyrenees, often snowy.
In the village of Sainte Foi, overlooking the farm, you can admire the Romanesque chapel of the 11th century which includes restored frescoes of the 14th century and, all around you, green hills to stroll or contemplate peacefully the cows grazing in the fields.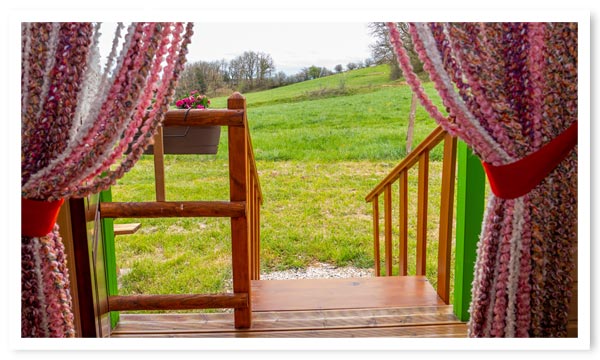 With an air of freedom, the domain of the Trille offers unusual holidays on the farm, in Ariège, to discover the agricultural world with its animals, its crops and its activities. You can take advantage of the space to escape and recuperate, go for sports walking, running, cycling, or just spend time outside to indulge in idleness.
Unusual accommodation in the Pyrenean Piedmont
Ariège and Aude are two rural departments, and discovering them by hiking trails reveals all their richness, often unsuspected.
The Domaine de la Trille is located on the GR 78, the Piedmont Pyrenean trail.
This path connects the Lauragais region to the Natural Park of Ariege Pyrenees, passing through Carcassonne, for a distance of nearly 500 km from east to west. It is remarkable for its landscapes and the extraordinary views it offers.
On the Aude side, the path crosses the vineyards of Malepère, Corbières and Minervois, and on the Ariege side, in a hillside landscape, you can see the Pyrenees, the Tabe massif, the Madre, Saint Barthélémy and many others.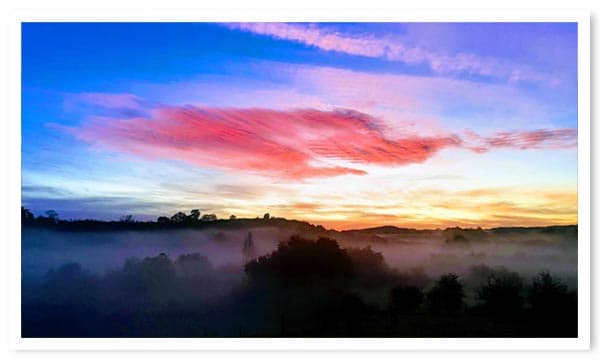 At Domaine de la Trille, you can sleep in nature, in a wooden trailer or in a rural cottage and enjoy the gentle sunrise on our hills.
For hikers, whether it is a stopover or a starting point, you can prepare a good meal with the products of the farm you will find in the on-site shop.
Our products have the Sud de France label issued by the Occitanie region and are approved by the brand NOU Ariège Pyrénées.
For your hikes, don't forget to bring specific clothing and equipment: good shoes, light clothes, but also a fleece jacket and a raincoat.